Happy Friday! I don't know about y'all, but I cannot wait for fall. That rhymed! Helloooooo country hit.
The mornings are getting crisper, and I am almost overflowing with excitement. Don't get me wrong, summer's great, but I thrive in the fall and early winter. I'm not really into sweating or bugs, which are plentiful in rural America in the summertime, and flannel is my jam. Which is decidedly NOT a summertime jam. Call me crazy, but I've already started watching a little Hocus Pocus while I make dinner at night. 
Here are some other things that are my jam this Friday:
Favorite Interior:
I am in love with apricot paint–my bedroom at my parents' house is painted apricot, and that's what color I'm going with in my office at home, since it's the only room in the house that Bert isn't going to spend much time in. I'm all about design liberties, but I just can't make my husband live in a girly-colored house. I love this color, and this color. Maybe a combination of the two? We'll know pretty quick, since I'm painting this weekend. 
Favorite Fall Food Idea:
I'm not ready to get into pumpkin world just yet, but my craving for crunchiness and fruit is going to be satisfied with these homemade apple chips, I can just tell.
Favorite New Eat:
I'm also craving Italian, which actually just means sauce, and you can never go wrong with fresh basil. These little guys will surely find their way into a weekend menu sometime soon.
Favorite (Maternity!) Fashion:
Speaking of flannel, which is my jam, maternity is now also my jam. So, here's a double dose of jam, that I will be patiently waiting for when it goes on sale!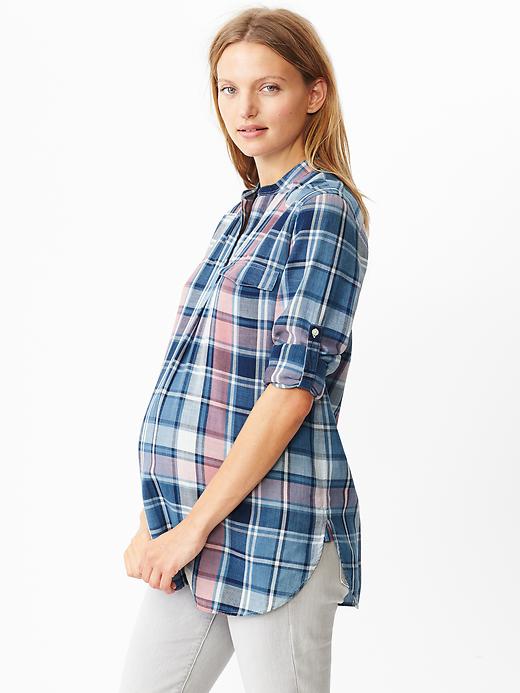 Favorite Fix:
While we're on the maternity jam bandwagon, these little babies are seriously my jam. They hook on to your pants with a button, and hide the fact that zipping your zipper is no longer an option.
Favorite (Impractical/Novelty/Have to have anyway) Baby Item:
I mean, they call our ranch the Mustache Outfit. My dad has a (lifelong) mustache, Bert's dad has a (lifelong) mustache, and Bert can grow a fabulous mustache. Even if baby Cletus turns out to be a Diane instead of a Jack, I think this would be a welcome addition to our silly baby collection.
Favorite Indulge:
I'm not too into overly sweet things these days (trust me, no one is more shocked than I am), but these S'mores Bars are speaking to me. And, I think they spoke to Bert a little, too, because when he saw the picture, he said "Those look good." Which, for him, means I ought to try and make some. I might see if it would be at all possible to swamp jumbo marshmallows for the marshmallow creme, though.
Favorite Fuzzy:
It's no secret that I'm a sucker for fuzziness in general, and whenever we get another dog (three is our max, so it'll be awhile, I hope), I would love one of these, or a Newfoundland. 
Favorite DIY:
For me, another part of fall/winter is CANDLES. I love candles. I'm particularly partial to Home Sweet Home, Balsam Fir and Bright Copper Kettles from Yankee Candle Company. But, another thing I love? Mason jars. So these homemade, country-y candles just might end up on my holiday-craft list. Particularly because I still have boxes and boxes of mason jars left over from my wedding. 
Favorite Words:
This is very true, particularly for me. I'm a major talker, and Bert once told me that my worst habit is interrupting people (disclaimer: I asked him what my worst habit was, and didn't allow him to count the hormone-induced meltdown I had when I lost one of my favorite earrings a month or two ago. The earring has since been found. And by "has since," I mean it was found about three minutes after said meltdown, in my bathroom drawer). Thus, after some (uninterrupted, thank you) introspection, I've been trying to really listen rather than just pause what I was saying, and to try and find value in what people say. Because he was totally right! I don't always succeed, but I'm trying.
Favorite Fitness:
Since my workouts this summer have been walks with the dogs and 21-Day Fix during lunch at work with my co-workers, I'm going to have to get creative since I'll be back working out alone here in a week. I'm not into being drenched in sweat, but I am into squats. Enter: these squat variations.
Favorite Animal:
I love stags, I love elk, I love caribou, and I would love to have this picture in black and white on a canvas in my living room. There's just something about those animals that is just majestic.
Favorite Go-To:
This Kung Pao is one of my favorite things to make for dinner. I usually serve it with steamed white rice and snow peas or broccoli.